Derbarl Yerrigan Health Service – RACGP 2023 WA GP Service of the Year and RACGP GP in Training of the Year 2023!
Huge congratulations to Derbarl Yerrigan for being named the GP Practice of the Year by RACGP.  This is an incredible achievement, and the PHCQI team want to offer their sincere congratulations and admiration for taking out both awards, including to Dr Corey Dalton for being named the RACGP in Training for the Year. Well done!
MyMedicare – Patient Registration
MyMedicare Patient Registration has opened on October 1st. Information in this space is updating daily, so for the most up to date information AHCWA has please reach out to the team email – [email protected]. Otherwise, here are some useful links:
Updated Health Provider Education modules and resources
Practice Connect subscription link
Link to DoH webinar recording from 21/09/23

Rural Health West Aboriginal Health Conference 2023 – Registration Open
Registration for the Aboriginal Health Conference by Rural Health West is open. This year's theme is Dedication: The Story of our Elders. The conference will bring together health professionals from across rural WA, and provide the opportunity to learn from those who came before us, hear their stories and reflect on how we can move through the challenges faced by so many, and find a way forward together.
The conference program will have five streams: (1) Caring for Elders, (2) Social and emotional wellbeing, (3) Culturally competent care, (4) Sexual health and (5) Health across the life course. You can find more information, including registration fees here.
HeartKids Aboriginal and Torres Strait Islander Teen Camp 2024
Details have now been released on the HeartKids Aboriginal and Torres Strait Islander Teen Camp 2024.  The camp is being held in NSW, is completely free (including flights) and will be fully staffed by a range of medical clinicians.  Teen Camp can connect young people experiencing similar journeys, develop friendships, try fun activities, build health care skills and increase self-confidence and independence.
Please share this awesome opportunity with youth in your community, and find more details here.

Genetic Services WA
GSWA are a statewide service that is based at King Edward Memorial Hospital with outreach clinics across Perth and regional WA.
If you want more information about GSWA including how and when to refer, what services are available, and to increase your knowledge of genetics and general practice, reach out to Clinical Geneticist Rebecca D'Souza (Rebecca.D'[email protected]).
Tuberculosis
Resources
Plz put graphic of the TB brochures here – I can't figure out how to save a pdf as an image and it's giving me a headache – thankyou!
AHCWA's Public Health Team and Communications & Design Team have put together a TB brochure and information page that can be found on the AHCWA website. The brochures were developed with great input from services affected by TB, especially Spinifex Health and the Tjuntjuntjara community, and can be localised to your service. If you would like a brochure localised, send an email to [email protected] and we will work with you to make adjustments that work for your community!

Digital Health
Services Australia Health Professional Education Resources
Services Australia has a number of resources available to help you understand their health programs and services including the Australian Immunisation Register, MyMedicare, Organisation Register, PRODA, Pharmaceutical Benefits Scheme and more.
Find these resources here.
Communicare: New Customer Services Managers
Communicare has new Customer Service Managers, led by Cassie King. The WA rep is Shawn Lenard, and can be contacted at [email protected].
The Service Desk has also been expanded, led by Dale Smith. Continue to submit Service Desk tickets as normal.
Immunisation/Communicable Disease
Mpox Notification in returned traveller
WA Health has issued a media release about a returned traveller who tested positive to mpox. While there was low risk to the public from the returned traveller, people should be aware of the risk of mpox if travelling overseas given the growing number of cases being reported.
Sexual Health
Sexual Health Forum Save the Date – 21-22 November in Boorloo
AHCWA is currently planning the Sexual Health Forum to be held on Whadjuk Noongar Country in Boorloo (Perth) on the 21-22 November. Please Save the Date if you're interested, and registrations will open soon.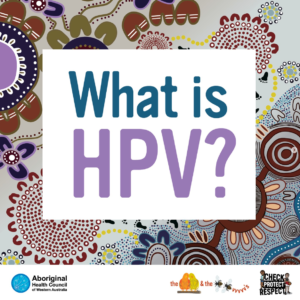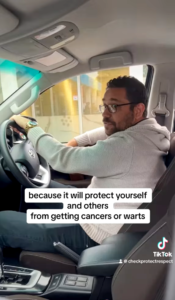 HPV Campaign
The Sexual health team at AHCWA have been collaborating with MCDC to create some deadly resources for adolescents around HPV vaccination. Find them on TikTok, Instagram and Facebook under the handle "Check.Protect.Respect." Please feel free to share these widely, including on your own services' socials to increase the awareness of HPV vaccination in this age group.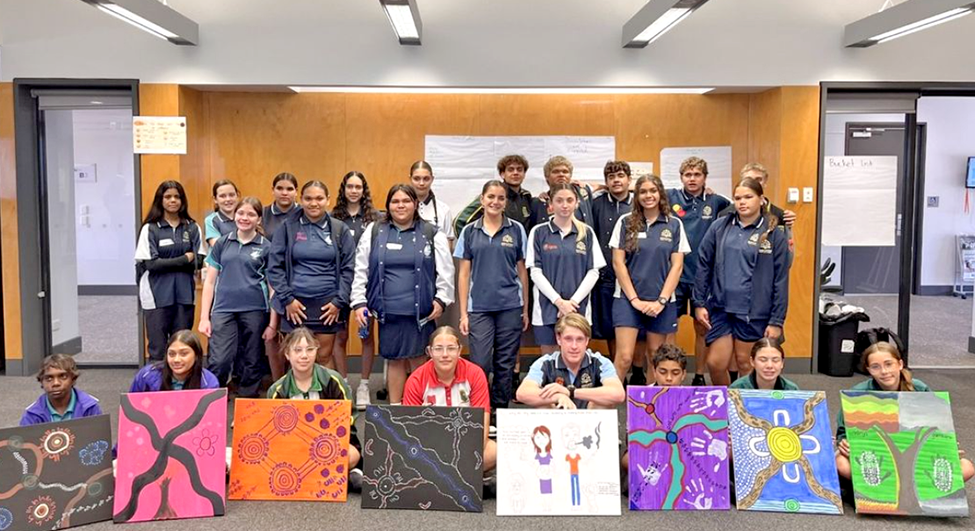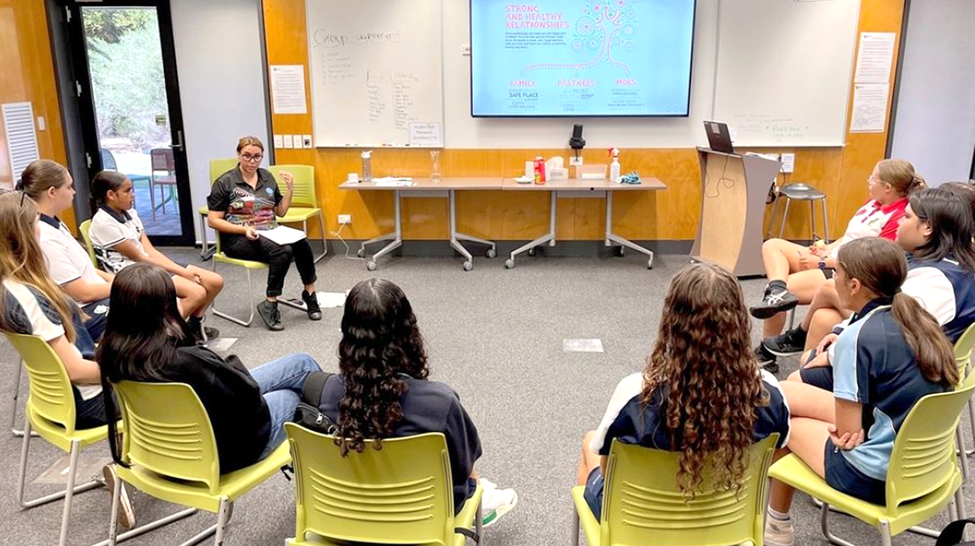 Geraldton Young Leaders
The Sexual Health Team presented a session of the Young Leaders Program recently in Geraldton. It was a great 2 days and they met some really strong younger leaders in the community!
If you want some more information about the Young Leaders Program, look on AHCWA's website or contact our Sexual Health & BBV Program Officer – Youth, Ash at [email protected].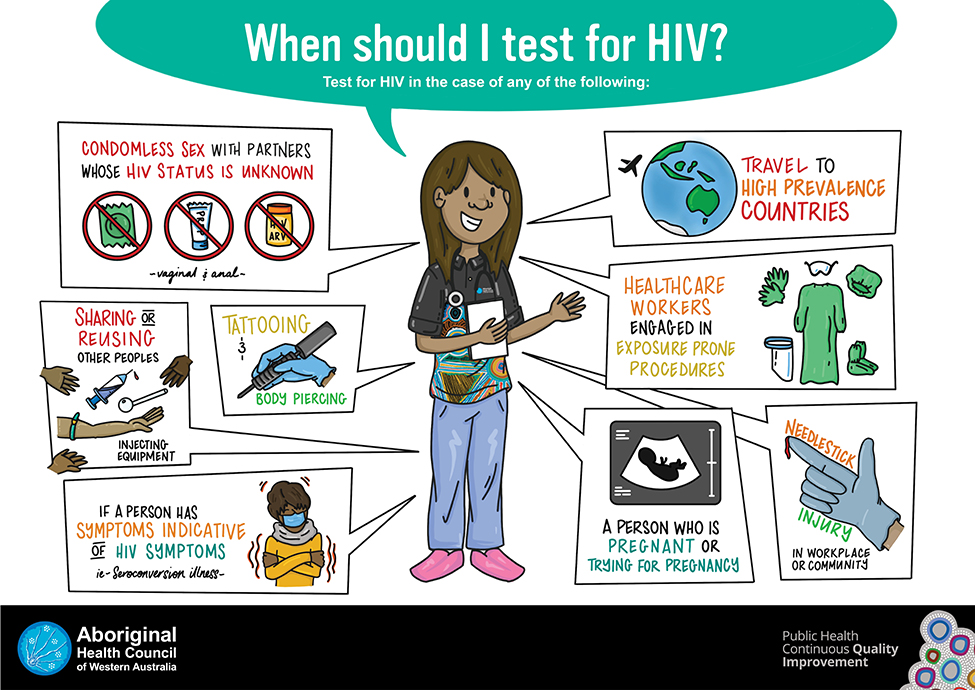 HIV Testing reminder
A little reminder from the Sexual Health Team to keep HIV testing in mind due to an increase in cases in the regions, especially in people over 30 years of age, as they aren't usually considered high risk but have made up a large portion of new diagnoses. People who may be higher risk are those who have been out of community for long periods and sleeping rough or engaging in at risk behaviours, including injecting drugs which they may not disclose to clinic staff or family. Be sure to have conversations with community members about keeping safe and helping to increase knowledge and awareness to encourage harm minimisation and testing.
Please don't hesitate to contact the Sexual Health Team for any resources or support you think we may be able to provide.
Social Emotional Wellbeing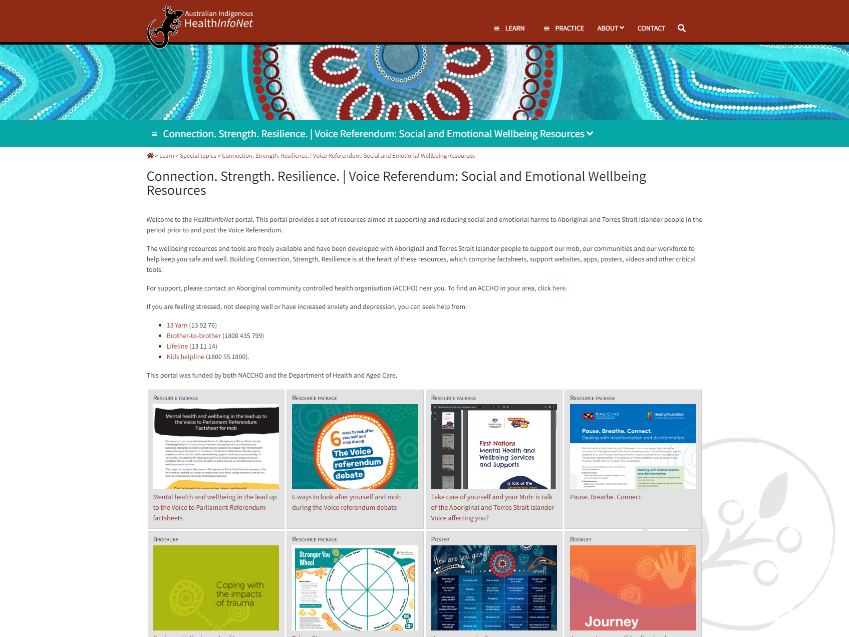 Voice to Parliament
The Voice to Parliament referendum has increased racism amid the debate, and is having an impact on mob's SEWB. If you or your community need support or resources, check out the Healthinfonet portal created in collaboration with NACCHO: Connection. Strength. Resilience., or call one of the following services:
13 Yarn (13 92 76)
Brother-to-brother (1800 435 799)
Lifeline (13 11 14)
Kids Helpline (1800 55 1800)
Smoking
New Vaping focus on the AOD Knowledge Centre website
The Australian Indigenous HealthInfoNet Alcohol and Other Drugs Knowledge Centre has launched a new topic that addresses the harms from the use of e-cigarettes or vaping. Vaping is associated with a number of direct harms including an increased risk of tobacco use in young people. The new topic on vaping, includes information on: publications, health promotion, health practice resources, policies, programs and organisations in relation to vaping with a particular focus on the health of Aboriginal and Torres Strait Islander people.
Find it here.
Child Health
Aboriginal Child Health Resources
PCH has created a number of Aboriginal specific "Health Facts" (or information sheets) around a number of common conditions, treatments, procedures and equipment. These are found via the title "Keeping our Mob Healthy" of the PCH website.
Cancer
All about cancer for Aboriginal and Torres Strait Islander peoples
Cancer Council NSW in collaboration with the Aboriginal Health & Medical Research Council have developed a book of stories from Aboriginal people affected by cancer and have developed a website to provide information about cancer for Aboriginal and Torres Strait Islander peoples. Find more including resources here.
Workforce Development
Feet on the Ground – funded Regional workshops
Benchmarque are running a number of Chronic Conditions of the Foot workshops that are funded by the Australian Government Department of Health, so there is no cost to individuals to attend. The course is suitable for AHW, AHP, RN, EN, GP, GP-registrars, Allied Health Workers, SEWB workers and the like!
The following dates are confirmed:
Friday 20 October | Bridgetown  https://learn.accessiq.com.au/shopping-cart/checkout/
Tuesday 24 October | Newman https://learn.accessiq.com.au/shopping-cart/checkout/
Thursday 26 October | South Hedland https://learn.accessiq.com.au/shopping-cart/checkout/
Friday 27 October | Karratha https://learn.accessiq.com.au/shopping-cart/checkout/
Friday 10 November | Busselton https://learn.accessiq.com.au/shopping-cart/checkout/
Friday 24 November | Bunbury https://learn.accessiq.com.au/shopping-cart/pathway/375/
There will be dates for Broome and Kununurra announced soon.
Contact John von Dadelszen from Benchmarque at [email protected] for more information, or if you require help enrolling call the Student Experience team on 1300 855 568.